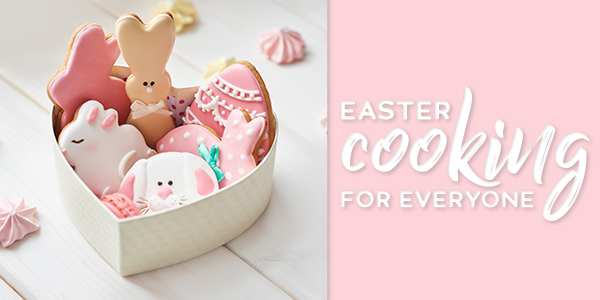 Do your kiddies love helping out in the kitchen?
Well with Easter just around the corner we have found some great recipes that everyone (including the children) can get involved with.
Check out our Favourite Easter recipes that you can whip up for breakfast, lunch or as some delicious treats!
CHOCOLATE NESTS
Not only do they taste amazing, but Chocolate Nests look great on the table!
Ingredients
- 200g chocolate
- 20g butter
- 40g shredded coconut
- 1x Packet of original Fried Noodles
- Speckled eggs
- Baking paper
Directions
1. Line a large baking tray with your baking paper.
2. Roughly chop the 200g block of milk chocolate and the 20g of butter, placing both ingredients into a heatproof bowl.
3. Place a saucepan of water on the stovetop and allow to simmer gently, once simmering add the heatproof bowl of chocolate and butter and stir until the chocolate melts and you have a smooth mixture.
4. Remove the mixture from the heat.
5. Gentle stir in the fried noodles and shredded coconut to the mixture.
6. With two large dessert spoons arrange the chocolate mixture into small mounds on the baking tray.
7. Using the back of the spoon create a shallow dip in the centre of each mound and place 3-4 of your speckled eggs.
8. Once you have finished, place the baking tray in the fridge and allow your chocolate nests to set (this could take up to 30minutes).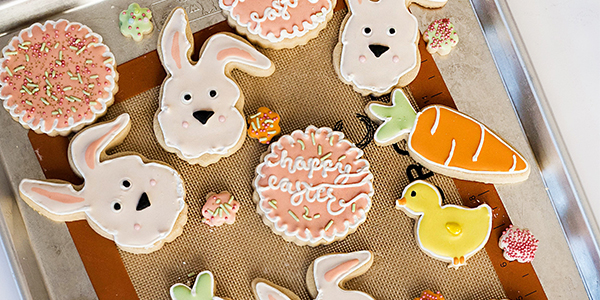 EASTER COOKIES
Ingredients
- 175g butter
- 2/3 cup caster Sugar
- 1 teaspoon vanilla extract
- 1 egg
- 2 cups plain flour
- 1/2 cup malted milk powder
- Cling wrap
- Baking paper
Icing
- 6 egg whites
- 9 cups icing sugar
- Lemon juice
- Food colouring
Directions
1. Beat softened butter, caster sugar and vanilla extract with an electric mixer until light and fluffy.
2. Add egg and continue to beat with electric mixer until combined.
3. Fold in the sifted flour and milk powder until all ingredients are combined smoothly.
3. On a clean workbench roll out a sheet of cling wrap, turn the dough mixture out on the plastic and wrap. Refrigerate for around 1 hour or until the dough feels firm enough to roll.
4. Preheat your oven to 180C, and grease a large baking tray and line with baking paper.
5. Remove the dough from the fridge and unwrap from the cling wrap. Place the dough on and cover with two pieces of baking paper, roll out until 5mm thick. Freeze quickly for no longer than 10 minutes.
6. Using any Easter shaped cookie cutters that you have, cut shapes from the dough and place on the prepared baking tray.
7. Place the baking tray into the oven and bake from 8 minutes or until the cookie looks lightly golden. Remove from oven and cool.
8. To make your icing combine all icing ingredients into a bowl until smooth.
9. Divide your icing evenly among smaller bowls adding your desired food colouring.
10. Now comes the fun part, its time to decorate!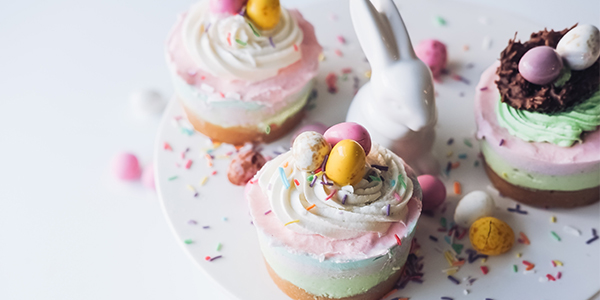 EASTER CHEESECAKE
Ingredients
- 250g packet choc ripple biscuits
- 100g butter
- 3 packets of speckled easter eggs
- 750g cream cheese
- 600ml thickened cream
- 1 cup icing sugar
- 3 tablespoons gelatine powder
- Food colouring
Directions
1. Using a springform cake pan, grease lightly and line with baking paper.
2. Roughly break up the chocolate ripple biscuits and using a food processor, process until finely crushed.
3. Add the melted butter to the biscuits and continue to process the mixture until combined. (Additionally, at this time you can also add one packet of the speckled eggs to the mixture and process).
4. Transfer the mixture to the prepared pan and using the back of a dessert spoon press the mixture firmly over the base of the cake pan. Place int the refrigerator until the base is set.
5. Next place the cream cheese, cream and icing sugar in a clean food processor and combine until smooth. Once smooth divide the mixture evenly into three smaller bowls.
6. In a small microwave-safe bowl add two tablespoons of water and sprinkle in 1 tablespoon of gelatine, stir to combine. Microwave the gelatine mixture on High for 10 seconds (be careful not to overheat). Remove from microwave and using a fork be sure to whisk the gelatine into the water until it dissolves. Set aside to cool slightly.
7. Add the gelatine mixture to 1 of the bowls of cream cheese, and add a few drops of food colouring, stir to combine and spoon over the chilled cheesecake base. Place back in the fridge for 30 minutes to set.
8. Repeat steps 6 and 7 for the other two bowls of gelatine.
9. Chill for 30mintues to set, remove from fridge and use the remaining speckled eggs to decorate.
Image Credit (Top) (Bigstock)