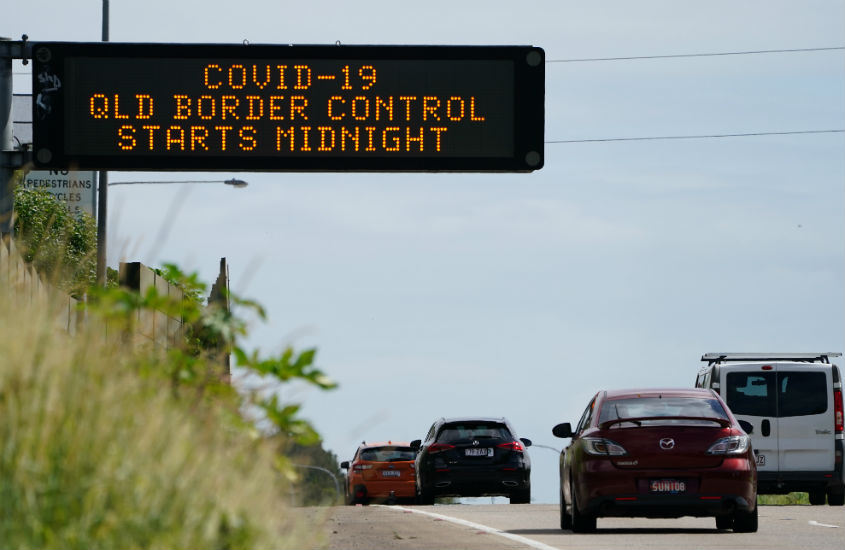 A border control sign is displayed to motorists on the Pacific Highway, near the Queensland border in far northern New South Wales, Wednesday, March 25, 2020. The Queensland border will close at midnight on Wednesday as authorities try to stop the spread of COVID-19. (AAP Image/Dave Hunt)
The community should avoid all non-essential cross-border travel to Queensland from Wednesday evening.
State Disaster Coordinator Deputy Commissioner Steve Gollschewski said the restrictions would apply to all travel to Queensland by air, sea, rail or road.
"Interim arrangements will be in place to enforce border restrictions from 12.01AM on Thursday," Deputy Commissioner Gollschewski said.
"Anyone trying to enter Queensland particularly by road on the Gold Coast can expect significant delays from Wednesday night.
"We will aim to prioritise essential food, supplies and services. The community can help us by not trying to cross the border unless their travel is absolutely essential.
"We understand that people will be inconvenienced but these restrictions are being implemented to slow the spread of novel coronavirus (COVID-19).
"We are in the process of developing an online application and exemption system including a help line, but it will not be ready for tonight. We will have work arounds in place tonight but that could contribute to delays."
Anyone who arrives in Queensland from another state or territory from 12.01AM on Wednesday must self-isolate for 14 days unless they are an exempt person.
Deputy Commissioner Gollschewski said police and other emergency officers under the Public Health Act 2005 would be responsible for enforcing the measures.
"If a person does not comply with quarantine directions, penalties of up to $13,345 for individuals and $66,672.50 for corporations can also apply."
Who is exempt from the requirement to enter quarantine for 14 days
Those living outside the state who provide critical services to Queensland:
• National/state security
• Essential health services
• Emergency services
• Transport of goods or freight including food
• Critical maintenance/repair to critical infrastructure in Queensland
• Mining/energy/agribusiness who have a plan to manage COVID-19 transmission among employees.
Queensland also allows a general compassionate grounds exemption as well as specific exemptions for those who live outside Queensland who:
• Are carers/relatives of dependent people in Queensland
• Need to obtain essential medical treatment including visiting terminally ill relatives in Queensland
• Are interstate boarding school students where school is closed
• Are required to comply with the law to travel to Queensland (for example, Family Court, parole/bail conditions).
Additional exemptions:
• People who live outside Queensland but near the border who ordinarily work or study in Queensland to travel for that purpose, or travel interstate to obtain essential goods and services
• FIFO workers in commercial construction, fishing, mining, energy or agribusiness industries.
To support these restrictions, from midnight tonight the following roads will be closed:
• Nerang-Murwillumbah Road at Springbrook
• Tomewin Mountain Road at Currumbin Valley
• Kent Street at intersection with Toolan Street at Coolangatta
• Dixon Street roundabout with no access to Queensland from Charles Street to Florence Street at Coolangatta
• Dixon Street at intersection with Bay Street at Coolangatta
• Miles Street at Coolangatta opposite Len Peak Oval.