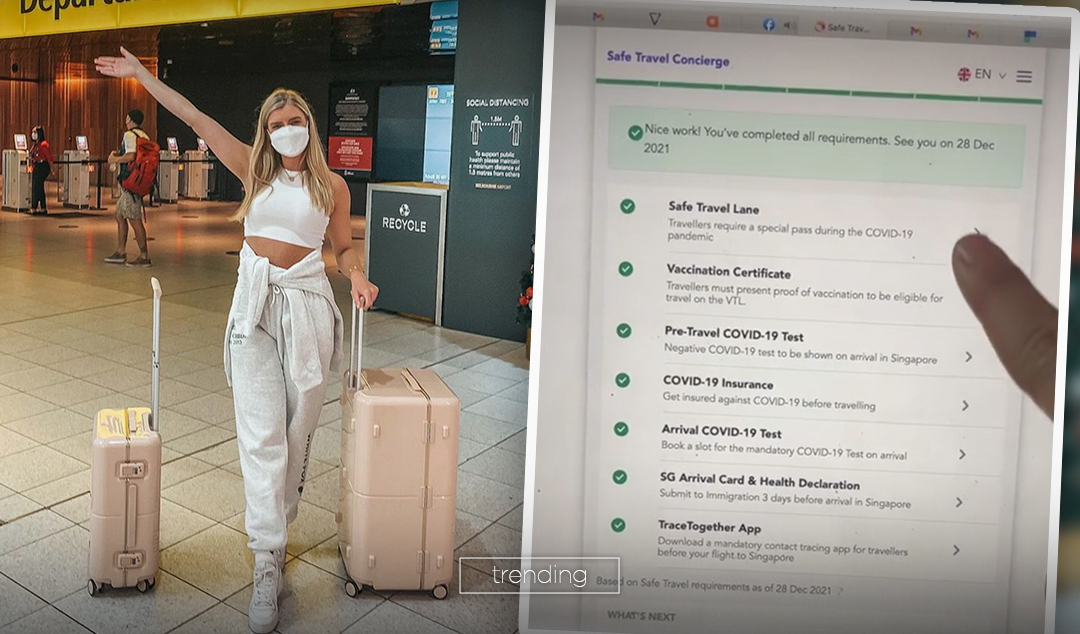 Aussie TikToker documents her journey to Singapore amidst the pandemic, and who knew there were so many tests involved?
Beck Lomas, an influencer from Melbourne, has documented every little detail about her first overseas trip in 2 years in a video posted to her 24.7K followers on TikTok.
After countless tests, filling out oodles of paperwork, and having to be *extra* organised, Lomas finally found herself leaving Australian soil for Singapore.
Article continues after this ad
Advertisement
She captured the lengthy process, and laid out exactly what you can expect when travelling in a world post-covid.
"I've gotten heaps of questions about what it's like to travel overseas from Australia at the moment, so I thought I would lay it out for you guys in a video cos it's actually quite tricky."
Lomas goes through the checklist of things they had to do prior to their flight, which included:
Get a special Safe Travel Lane pass
Provide proof of vaccination
Get a pre-Travel COVID-19 test with negative result shown upon arrival in destination
Get COVID-19 Insurance
Book a mandatory COVID test for when you arrive in destination
Submit Arrival Card & Health Declaration to Immigration
Download the arrival destination's contact tracing app
Article continues after this ad
Advertisement
These are all things that must be completed before arriving at the airport, and if they're not all checked off you'll be turned away.
Once you get through to the departure gate, you can breathe a sigh of relief. You're almost there.
On the plane masks are mandatory, but Beck says she was happy to wear one as it made her feel safer.
Upon arrival at Signapore airport, Beck and her partner had to get another COVID test and isolate in their hotel until the results came back negative.
On days 2, 4, 5 and 6 you need to do a self-administered rapid test and upload your results online.
Article continues after this ad
Advertisement
On days 3 and 7, you need to do a professionally administered test.
Wrapping up the step-by-step insight into International travel, Lomas admitted that it wasn't the simplest process.
"All in all travel definitely isn't as easy as it used to be and there are a lot of hoops you have to jump through, there's a lot of admin, but it is all worth it to just get out of Australia."
When a fellow TikToker asked why anyone should bother going through that rigmarole, Lomas replied, "Because if you wait until travel is 'easy', you'll spend your entire life stuck in the same place."
Article continues after this ad
Advertisement
Here, here!
Where are you hoping to fly to?
Article continues after this ad
Advertisement
Images: becklomas / TikTok