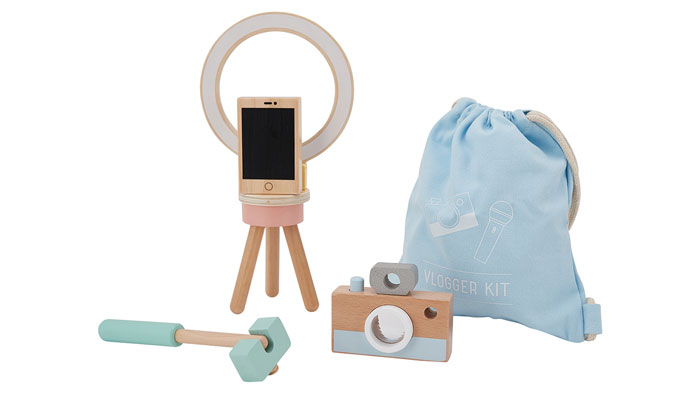 Kmart is selling a '6 Piece Wooden Vlogger Playset', so now your toddlers can start their influencer careers early. The vlogger kit has caused a stir online with some shoppers finding the toy set hilarious and some even finding it sad.
The playset listed on the Kmart website for $13 has the description, "Little ones will love to pretend taking pictures, photos and making video with this wooden vlogger set!"
The set which is suitable for ages three years and over, comes with a canvas backpack, a mobile phone, a camera, a selfie stick, ring light and a tripod. Of course, the wooden toys don't obviously work, but toddlers can pretend to be like their favourite vloggers or keen influencer parents.
Article continues after this ad
Advertisement
Instagram page @kmart_bargains shared the toy set leaving shoppers with a mixed reaction to the toys. Some enjoyed the idea of it, tagging their friends and saying it would be great for their kids. Others didn't agree, one even saying they weren't impressed. They said:
"Let's make children even more narcissistic than the previous generation! Not impressed by this Kmart attempt."
Other comments laughed at the idea and even said it was 'sad'.
"that vlogger thing is just so sad…"
Article continues after this ad
Advertisement
"the wooden vlogger play set?! I can't 😂
" 😂 the wooden blogger play set what the heck 💀"
Most of us would be used to traditional wooden toys from blocks to kitchen sets and train sets… and now the kids have something to play with that they've grown up seeing. Although some aren't sure what to think of it, it's definitely a sign of the times.
Image Credit: (kmart.com.au)
Article continues after this ad
Advertisement