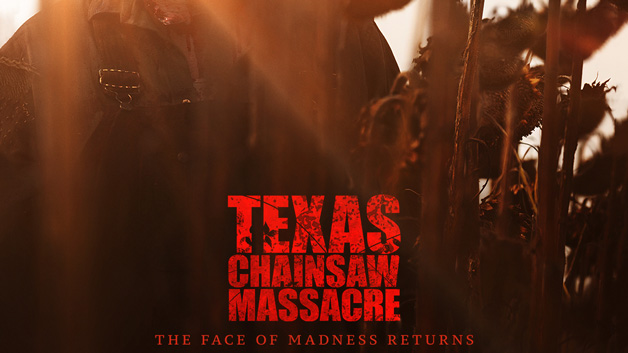 Leatherface is back! Texas Chainsaw Massacre is set to return to screens on Netflix with a sequel planned to premiere in February 2022. Netflix has revealed a first look at the iconic character in their newest poster.
The sequel brings the classic horror story into the modern world, taking place 50 years after the events of the original movie. The synopsis says:
"After nearly 50 years of hiding, Leatherface returns to terrorize a group of idealistic young friends who accidentally disrupt his carefully shielded world in a remote Texas town."
Article continues after this ad
Advertisement
"Melody (Sarah Yarkin), her teenage sister Lila (Elsie Fisher), and their friends Dante (Jacob Latimore) and Ruth (Nell Hudson), head to the remote town of Harlow, Texas to start an idealistic new business venture. But their dream soon turns into a waking nightmare when they accidentally disrupt the home of Leatherface, the deranged serial killer whose blood-soaked legacy continues to haunt the area's residents — including Sally Hardesty (Olwen Fouéré), the sole survivor of his infamous 1973 massacre who's hell-bent on seeking revenge."
The exclusive poster for TEXAS CHAINSAW MASSACRE is here.

Leatherface arrives on Netflix February 18. Don't miss the new trailer, coming soon on January 31 pic.twitter.com/jl7iUSCplg

— NetflixFilm (@NetflixFilm) January 28, 2022
The poster shows Leatherface in a field of dried up sunflowers with the suns rays obscuring his face slightly. The infamous killer who wears the mask of human skin can be seen staring at the camera with the tagline, "The Face of Madness Returns."
Starring Sarah Yarkin, Elsie Fisher and Mark Burnham, the sequel to the horror classic is made by the same team from "Don't Breathe" and "Evil Dead." It is set for release on the 18th of February, 2022 and a trailer is set to be released on January 31st.
February is looking huge! We've got plenty of exciting new titles and returning fan-favourites including #LoveIsBlind S2, #SwapShop S2, and #SpaceForce S4. pic.twitter.com/mQohjyq10p

— Netflix ANZ (@NetflixANZ) January 19, 2022
Article continues after this ad
Advertisement
Image Credit: (@NetflixFilm / Twitter)