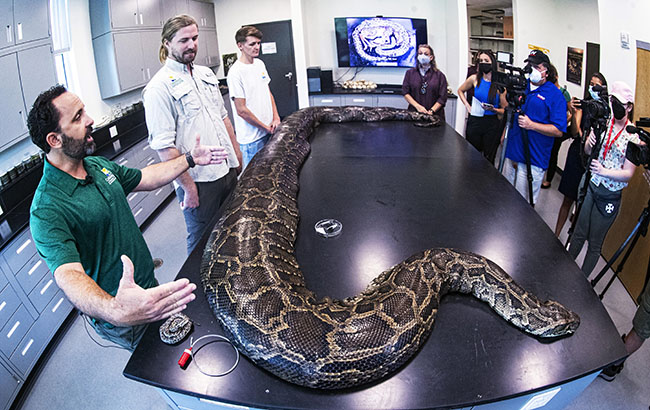 Ian Bartoszek, wildlife biologist and environmental science project manager for the Conservancy of Southwest Florida speaks with the media Wednesday, June 22, 2022 about how he and his team captured the largest invasive Burmese python to date in Florida (Image: Andrew West-USA TODAY NETWORK/Sipa USA /AAP Image)
Here in Oz we're used to ginormous spiders, crocs and snakes. But this python takes the cake!
(Would pythons eat cake? I guess they're allowed to eat whatever they want, who's going to stop them?!)
Article continues after this ad
Advertisement
This massive Burmese python was found in the American state of Florida and is nearly 5 metres long, weighing 98 kilograms and was pregnant with an astonishing 122 eggs.
She's the heaviest Burmese python ever found in the area and it's also the most eggs ever found in a python.
The female was discovered by a team of scientists from the Conservancy of Southwest Florida who've been tracking pythons in the area for 10 years and removing them from the environment.
Pythons are an invasive species in Florida that devastate the native wildlife, eating animals like rabbits and deer that the endangered Florida panthers should be eating instead.
(Woah, panthers!? Would you rather do battle with a panther or a python? Surely a python right?)
Article continues after this ad
Advertisement
Biologists Ian Bartoszek, right, and Ian Easterling, centre, with intern Kyle Findley with the python (Image: Conservancy of Southwest Florida via AP)
Turns out pythons aren't actually interested in humans, "but it's still scary to wrestle with a snake of that size and tell about it," said project manager Ian Bartoszek from the team.
Biologist Ian Easterling, who helped capture the python and is trained in dealing with them, explained that they were following a scout snake and heard a rustle and saw the female.
"We just jumped on and grabbed a hold of it, tried to restrain the head to prevent her from biting us," Mr Easterling explained. "And then probably wrestled her for about 20 minutes.
"She was very strong swinging her body around, she took her tail – actually seemed to like ball it up, it felt like in a fist – and swung at [intern] Kyle. He was able to dodge it but I looked right into it and she hit me square in the nose."
Article continues after this ad
Advertisement
(So there you go, a punch in the nose is better than getting mauled by a panther, am I right?)
Despite the need to remove and humanely euthanise the pythons, Mr Bartoszek said they have a lot of respect for these animals. "It's a beautiful creature any way you look at it and they're here through no fault of their own."
He predicted the python they captured could've been living in the area for up to 20 years and was likely intentionally released or an escaped pet.
"There's no machismo factor on this," he said. "We know that we removed another big egg laying female from the equation and it's about how much science we can get from this animal."
If you want to learn more about the conservation work being done around Burmese Python research and removal, check out this video:
Article continues after this ad
Advertisement