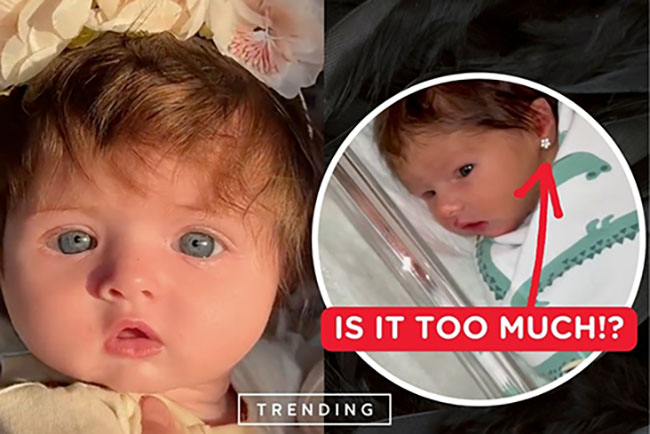 How soon is too soon to pierce a child's ears?
A mum has been criticised for piercing her daughter's ears when the newborn was only a few days old and still in hospital.
Article continues after this ad
Advertisement
Little cutie Lara was born in January this year and her mum has been posting videos of her out to nearly 800,000 TikTok followers at @laraticaofficial
A recent video – which has now gone viral with 18.9 million views – was captioned "1 day vs 4 months" and shows Lara with pierced ears as she lay in her hospital crib.
Even if parents decide to get their child's ears pierced, they're usually a lot older than a newborn. And some parents even wait until the child is old enough to decide for themselves.
The reaction to the video – and earlier videos showing similar footage of the piercing – was predictably swift and fierce.
Article continues after this ad
Advertisement
"Why would you do that? it's her own choice to pierce her own ears and you probably did it just so she would look cute."
"Seriously ? you can't wait for a few years to ask your child if he wants do to it ?! how can you do that ?"
"GO on and get that baby a tattoo while they are at it. lol"
One commenter jumped in to explain it was a tradition in Romania to pierce newborns' ears while they're still in hospital, with many others saying it also happened in Indonesia, Argentina, Mexico and The Philippines.
One even said that it was a very common practice in the 70s and 80s.
Article continues after this ad
Advertisement
Some commenters had pretty strong opinions too, suggesting the piercing was "body modification without consent" and "mutilating" the child's body, while others were worried about the tiny jewellery being a choking hazard or causing infections.
But the mum defended the piercing.
"When they are 2-3 days old! they don't feel the pain like a year or two! the holes are given to them by neonatologists in the hospital at birth," she wrote on the now-viral video. "I meant that the earlobe is much softer, and they don't feel the pain the same way! She had no reaction."
And plenty of people agreed.
"If they don't want it they can just stop wearing earrings and the hole would eventually close up and a small scar in your ear won't even be noticable."
Article continues after this ad
Advertisement
"A mother can make choices for her daughter. i likely wouldn't pierce my daughter's ears, but it's this woman's choice. please respect that."
What do you think? Is it ok to pierce your child's ears when they are young and can't choose for themselves? And how young is too young?
Main images: Tiktok.com/@laraticaofficial/