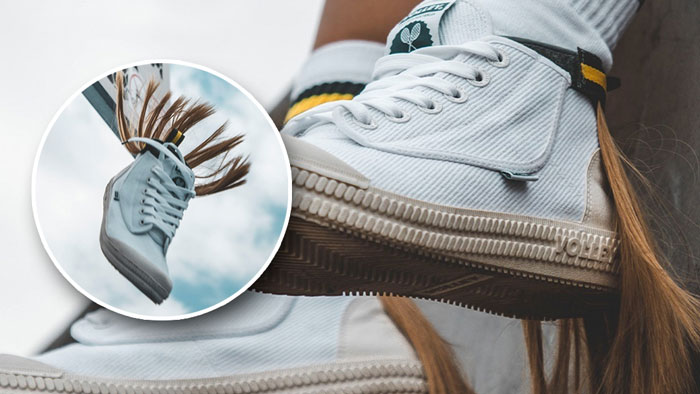 Volley Australia have teamed up with mental health organisation Black Dog Institute to create a one-of-a-kind Mullet Shoe with all proceeds going towards supporting mental health.
Some may have thought the new product was an April fools prank, but Volleys have confirmed their Mullet Volleys are available to pre-order and 100% of the profits will be donated to charity. Volley Australia announced on their socials, "Now that April Fools Day is over and all the jokes are done, it's time we get serious and talk about mental health."
Article continues after this ad
Advertisement
The product description on their website says:
"Did someone say it's a mullet shoe?! No, this isn't a prank, our MULLET VOLLEYS have landed. We've partnered with Black Dog Institute to support Mullets for Mental Health with 100% of the profits from the shoe will be donated to the charity. A shoe the world has never seen. Show your support #MulletsforMentalHealth. This shoe is limited edition with limited stock available."
The limited-edition version of their Heritage High shoe comes with a velcro detachable mullet so those who can't grow a mullet themselves can wear one on their shoes. Next best thing right? The mullet can be styled, cut, died and personalised to however you want to rock it!
Partnering with Black Dog Institute, the profits of the shoes will go towards their Mullets for Mental Health initiative which encourages people to grow mullets for the month of September. With suicide being the leading cause of death among Australians aged 15-44, approximately 60% of Australians who report symptoms of mental illness don't actually seek help. The money raised will go towards research into the early detection, prevention and also treatment of common mental health disorders.
Article continues after this ad
Advertisement
The limited release Volley shoe is available to purchase on their website for $84.99 and is expected to be released on the 15th of April 2022.
Those wanting to learn more about the Mullets For Mental Health cause can read more below and register to create their own unique mullet fundraising page:
https://www.blackdoginstitute.org.au/get-involved/fundraise/fundraising-events/mullets4mh/
Image Credits: (@volleyaustralia / Instagram)