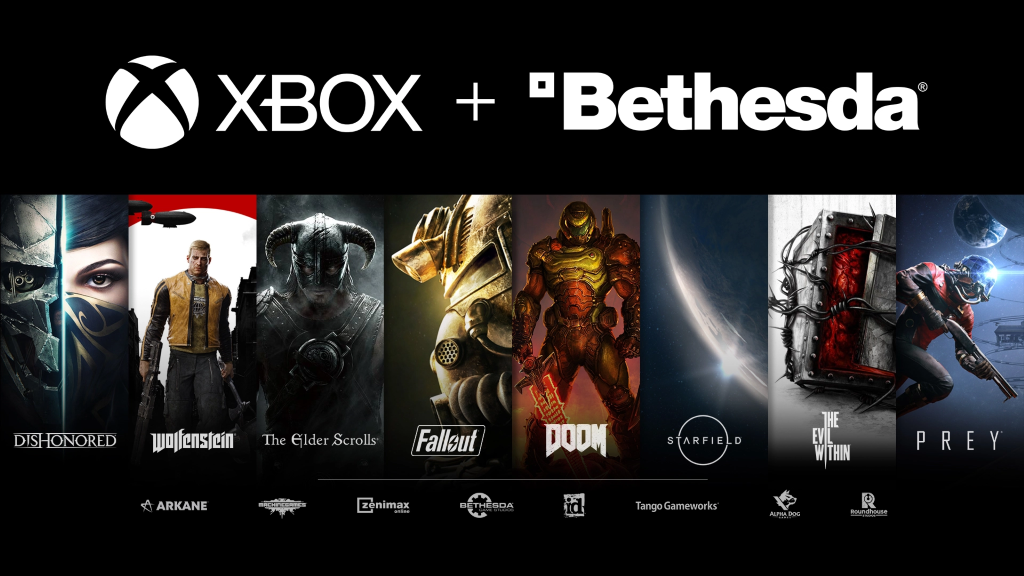 On the same day that Xbox Series X pre orders are available Microsoft has announced that they have entered into an agreement to acquire ZeniMax Media, parent company of Bethesda Softworks.
As one of the largest, most critically acclaimed, privately held game developers and publishers in the world, Bethesda is an incredibly talented group of 2,300 people worldwide who make up some of the most accomplished creative studios in the industry across Bethesda Softworks, Bethesda Game Studios, id Software, ZeniMax Online Studios, Arkane, MachineGames, Tango Gameworks, Alpha Dog, and Roundhouse Studios. These are the teams responsible for franchises like The Elder Scrolls, Fallout, Wolfenstein, DOOM, Dishonored, Prey, Quake, Starfield and many more.
Bethesda were early supporters of Xbox Game Pass, bringing their games to new audiences across devices and have been actively investing in new gaming technology like cloud streaming of games.
Xbox will be adding Bethesda's iconic franchises to Xbox Game Pass for console and PC.
Today is a special day… We are THRILLED to welcome the talented teams and beloved game franchises of @Bethesda to Team Xbox!

Read the full announce from @XboxP3: https://t.co/Jn0HcTJ9Mi pic.twitter.com/iQVutgT6zq

— Xbox (@Xbox) September 21, 2020
Head of Xbox Phil Spencer said "Like us, Bethesda are passionate believers in building a diverse array of creative experiences, in exploring new game franchises, and in telling stories in bold ways. All of their great work will of course continue and grow and we look forward to empowering them with the resources and support of Microsoft to scale their creative visions to more players in new ways for you
All of our work, and the foundation of our relationship with you, starts with a commitment to deliver a breadth of amazing games to discover and play on Xbox.  Over the last few weeks, we've been excited to share more detail on important elements of a plan we've been building towards for years. A plan that is the fulfilment of a promise, to you the Xbox player, to deliver the most performant, immersive and compatible next-generation gaming experiences, and the freedom to play blockbuster games with your friends, anytime, anywhere. Today is a landmark step in our journey together and I'm incredibly energized by what this step means for Xbox".
This is a massive move from Microsoft and while it's not believed that this will mean that all Bethesda created games will be exclusive to Xbox it may mean that some are or even that there is a release window that will see them on Xbox first. Microsoft don't seem too interested in winning the console war with exclusives anyway, why would they when they can sell more copies of Bethesda titles on both Xbox and PlayStation. This is also massive news for the Xbox Game Pass that was already good value, now it seems even better.