Leeds-based VR development studio XR Games has announced that 'Zombieland VR: Headshot Fever' has arrived on Oculus Quest.
"The Zombieland world is a no-nonsense kind of place, and to this end, we've made one of the purest shooting games for VR," said Bobby Thandi, Founder, and CEO, XR Games.
"We hand-crafted the content, upping replayability, and incorporated mechanics from racing games such as time splits so you know exactly how well you're doing. It's about practising 'til you're perfect. Your speed and accuracy with each shot are imperative to score the fastest time" (pro tip: two headshots in a row trigger Adrenaline Mode - like bullet time, but better!).
The Zombieland (2009) film followed Columbus, Tallahassee, Wichita, and Little Rock to Columbus, Ohio, during a mad cow disease-induced zombie apocalypse.
It was a booming success, along with its sequel, Zombieland: Double Tap (2019). Zombieland VR: Headshot Fever brings this beloved franchise to VR with a light-gun arcade-style shooter, with involvement from the original cast: Abigail Breslin lends her voice to the game, while Woody Harrelson's brother, Brett Harrelson, provides a tongue-in-cheek take on Tallahassee.
Fans of the hit 'Zombieland' movie franchise can step into VR to join Tallahassee, Wichita, Columbus and Little Rock as our four heroes roll up in Silicon Valley to launch a new kind of product; a zombie-killing racecourse called the Zombieland Invitational.

Inspired by light-gun games of the 90s and the racing games of today, 'Zombieland: Headshot Fever' rewards skill, speed, and accuracy with addictive gameplay, a range of powerful weapons, and an exciting new Adrenaline system.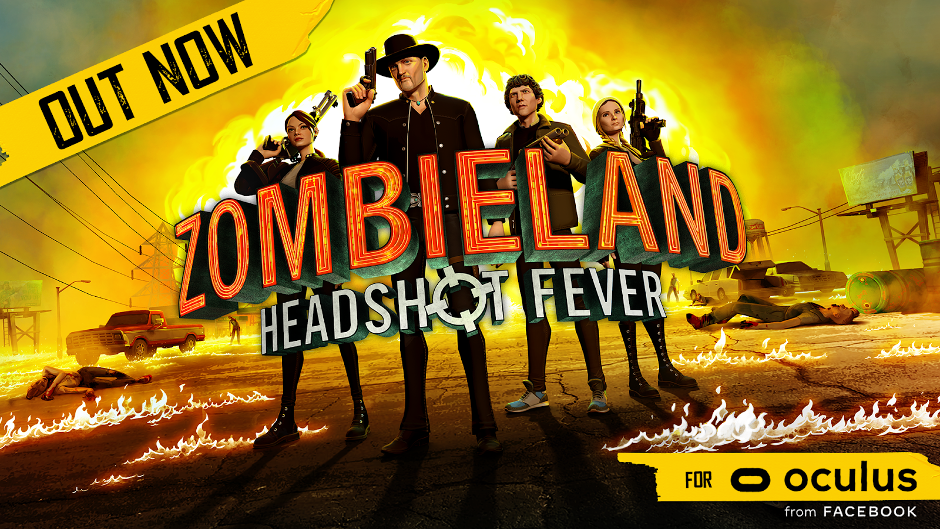 The goal is to be fast! Two quick zombie headshots turn the world slow, kicking in the adrenaline, giving players more time to rack up combos, get faster times, and claw their way to the top of the leaderboards.

This results in the addictive, replayable, zombie-killing race experience that is Headshot Fever. Boost your play with awesome weapons, powerful upgrades for head-popping, clock-stopping, zombie-killing arcade action!
Features of the game include:
Join the crew - Get trained up by Tallahassee, Wichita, Columbus, and Little Rock to take on the undead
Adrenaline system - Two headshots in a row make the world slow, use it to your advantage!
Global leaderboards - Challenge your friends, beat their times, and climb the global leaderboards
Powerful weapons - Unlock shotguns, revolvers, assault rifles, and more to find your ideal loadout
Upgrade your arsenal - Improve your weapons with powerful upgrades and perks
The Zombieland Invitational - Take your skills, weapons, upgrades, and perks into the fastest, most dangerous zombie-killing race ever devised
Built for VR from the ground up - Bringing light-gun shooters back from the dead, and into your home
Watch the trailer here:
Popular VR Content Creator and Reviewer Naysy said "Love the challenging arcade-style gameplay and the classic Zombieland humour it delivers. I had a blast!"
'Zombieland VR: Headshot Fever' is available now on Oculus Quest.