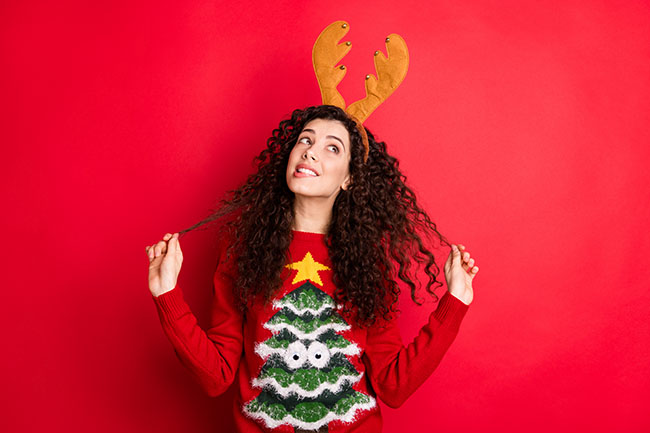 Tis the season to rock the ugly sweater!
Gone are the days when being forced to wear that awful sweater from your aunty brought you undying shame on Christmas Day.
Now it's a badge of honour to have the ugliest sweater for Christmas - and we're loving what we're seeing so far this season!
Check out these amazing creations from people with questionable knitting habits, though we reckon most are store bought. And we particularly love the homemade creations.
What's your favourite?
2020 was a dumpster fire of a year, so let's start with this very on-theme creation:
Here come the pet owners:
Today is a great day. #uglychristmassweater 🎉💖 pic.twitter.com/Ojd5a0tfkO

— lil teacup ☕️ (@iEatTacosx) December 16, 2020
This one gets double points for being a cardigan with decorated buttons:
My fav sprit day! @StucoReedy #rhsroar #uglychristmassweater pic.twitter.com/2TnjvwvzrW

— Annemarie Alexander (@MrsAlexMath) December 16, 2020
The only time you'd admit to letting your mum dress you:
The dog's either taking this too seriously or is seriously not impressed:
Because #blessed is ugly enough on its own:
This one might actually cause an injury!
An ugly sweater is much better with a themed face mask!
But this has to be our absolute favourite, is it a onesie?
And if you just can't bear to wear an ugly sweater, perhaps try baking some ugly cookies instead - the benefit is you can eat up the evidence super quick!
Image: Roman Samborskyi/Shutterstock.com