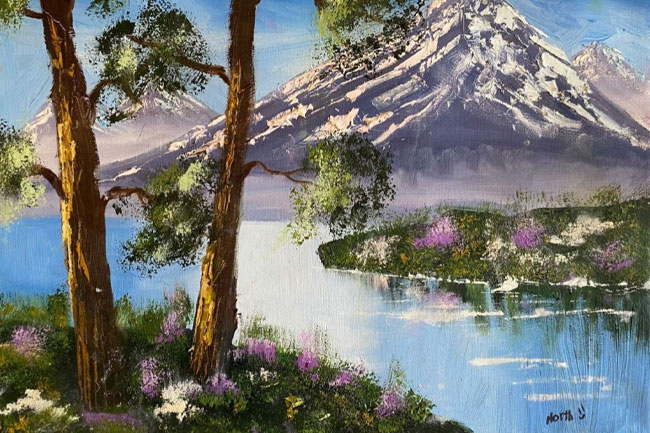 When Kim Kardashian posted a photo of a painting she claimed her daughter North painted, the internet had its doubts.
That's until one TikTok user came forward with some proof that North West did indeed paint that viral picture.
The painting in question was posted to Kardashian's Instagram story with the caption, "My little artist North." The scenic landscape with snowy mountains and crystal blue waters looked quite impressive for a 7-year-old and a lot of the internet claimed that North actually didn't paint it and wanted some evidence.
so you telling me this the same little girl that did this? pic.twitter.com/uYrhLBrud7

— Miah🧚🏻‍♀️ (@mxahclout) February 9, 2021
the fact that kim photoshopped north's signature on this like girl.... she did not paint that 😕 pic.twitter.com/5DC8Lbb1FZ

— 🚿🏝💦 (@howtohydrate) February 9, 2021
i cant believe north painted this @KimKardashian 😍 pic.twitter.com/Aq3yBRsh4u

— E (@ellaybellaye) February 9, 2021
It turns out the daughter of North's art teacher has come out to explain that her mum who's been teaching art for 30 years, teaches the same painting to all of her students. She says:
"I actually can't believe right now that I've been put in the position where I am probably one of the only people in the world who has evidence to prove that Kim is not lying but here you go... This is me, I was seven years old. See, 2006... And this is the infamous painting. My mum taught me how to paint this and she taught North how to paint the same one just two weeks ago. She's been an art teacher for 30 years and everyone that comes through her class just goes through this exact same painting when they're starting out."
Kim took to her Instagram stories to hit back at doubters, saying, "Don't play with me when it comes to my children." In the post, she wrote:
My daughter and her best friend have been taking a serious oil painting class where their talents and creativity are being encouraged and nurtured. North worked incredibly hard on her painting which took several weeks to complete. As a proud mom, I wanted to share her work with everyone. I'm seeing op-ed pieces in the media and social media from grown adults breaking down whether or not my child actually painted this! How dare you see children doing awesome things and then try to accuse them of NOT being awesome!?!?! Please stop embarrassing yourselves with the negativity and allow every child to be GREAT!!! NORTH WEST PAINTED THAT PERIOTDDDDDABCDEFGZFDT!!!!! !!!!!!!!!!!!"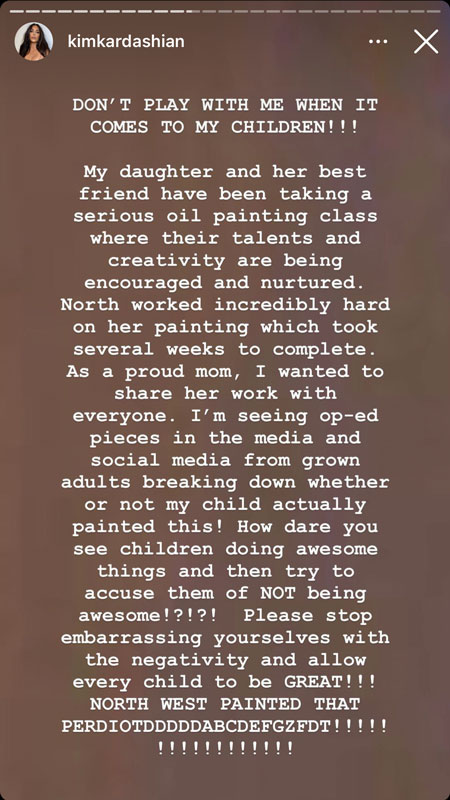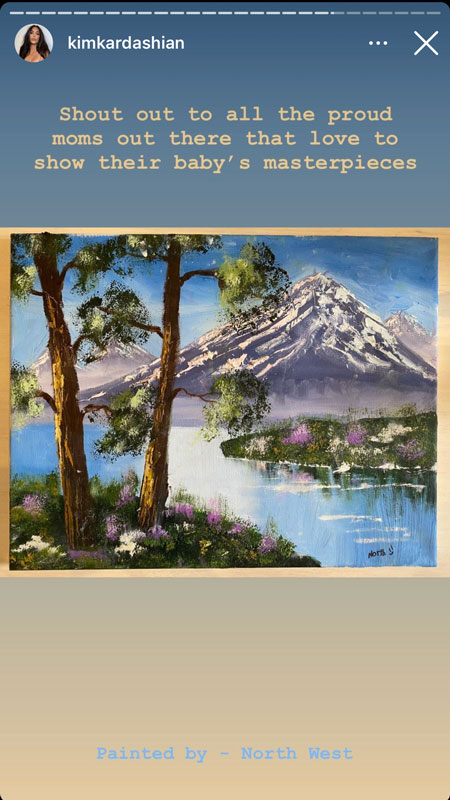 The 40-year-old SKIMS founder then posted a photo with her daughter North West posing with her painting as further evidence.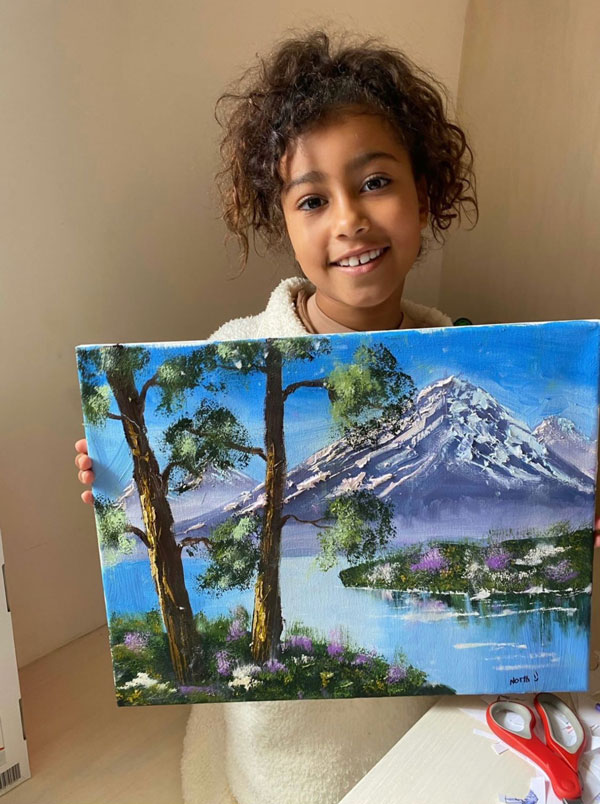 Images: (@kimkardashian / Instagram)