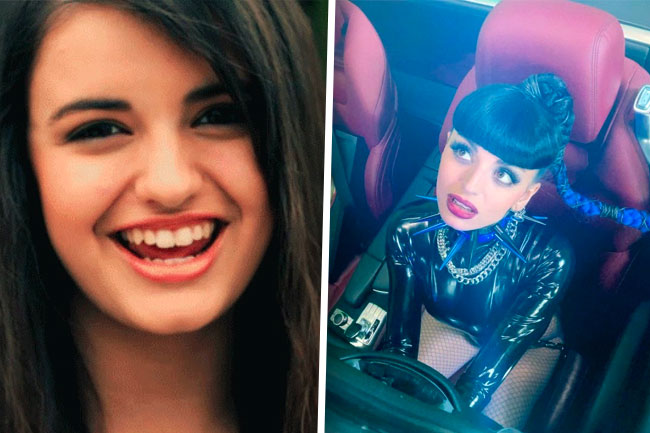 Ten years ago in 2011, a thirteen-year-old Rebecca Black would release a song that would change her life.
Her song 'Friday' dubbed "the worst song ever" went viral for the wrong reasons and ten years later, Black has released a 2021 remix featuring Dorian Electra, Big Freedia and 3OH!3.
Rebecca Black has definitely grown up since the "Friday" days and with a new look and sound, she's given us an absolute modern banger to get you ready for the weekend. Paying homage to the original video, the new music video references all of the iconic things from the original, just now with a tonne of memes, colours and flashing lights.
Want a trip down memory lane? Watch the original below. Relive the days of waking up at 7 am in the morning, having a bowl of cereal, rushing down to the bus stop, seeing your friends, kicking in the front seat, sitting in the back seat and wondering, which seat can you take. Nostalgia at it's best.
The glitched-out Friday Remix is produced by Dylan Brady and features new vocals from Big Freedia, 3OH!3 and Dorian Electra. Black's vocals have been chipmunked to the point where she's unrecognisable and the tune is backed with a pounding fast-paced beat. Dorian Electra sings the first featured verse with the lyrics, "It's 7:45, we're drivin' on the highway. I got this, you got this, my friеnd is by my right ay (fun, fun, fun, fun) Think about, think about, oh think about. Now you know it."
Sean Foreman from 3OH!3 then sings the next verse: "It's ten years later, now it's 3OH!3 on Friday. I'm sick of living through these Monday, Tuesday, Wednesdays. But then Thursday comes along and we are singing, Friday, here comes f**kin' Friday."
Then comes in the rap by Big Freedia: "F-F-F-F, F-R-I, D-A-Y. Now the week is over, let your freak flag fly (Flag fly). Make it clap like you're grateful. Make it clap like you're blessed. Make it clap-clap, dance in your backseat, ain't nobody strapped And you know why because it's..."
In an interview with BuzzFeed, Black explained the origin of the song. It all started in eighth grade when she noticed a girl had done a music video and thought it would be cool to do something similar. She went to her mum who agreed and she contacted the production company that produced the song and video.
The production company first gave her a song called "Superwoman" which Black didn't relate to, so she requested another song. That song would be "It's Friday." She recorded the song for fun, invited her friends to the shoot, recorded the video and went home thinking not much of it. A month went by and the company notified that the video was live. She watched the video with her dad and in the first month, it had only around 3,000 views.
Then on her way home from school, on a Friday, she got a notification saying "Hey this sucks, but you're gonna be famous," from someone who saw the video via Tosh.0, an American Comedy TV series. She went online to view and noticed it was blowing up, but in a bad way. Black admits she started crying from the negative reaction saying: "It was me, that was my face and that was me people were making fun of." She even stopped going to public school and had to do homeschooling because of it.
The song was trending worldwide and as a young teen, she was overwhelmed by interviews on shows such as Good Morning America and with Jay Leno. Although it was a tough rise to fame, Black did say she got to do some amazing things such as working with Katy Perry, winning a Teen Choice Award, and being the number one Googled thing that year.
Since then, the 23-year-old singer has shaken off the negative image, building on her music career releasing her own original content and even appearing as a contestant on Fox's 'The Four: Battle for Stardom".
The original song hit a milestone on Monday and was certified gold by the Recording Industry Association of America (RIAA), meaning the viral hit has sold more than 500,000 units.
Image Credits: (@rebecca / Rebecca Black / Youtube)