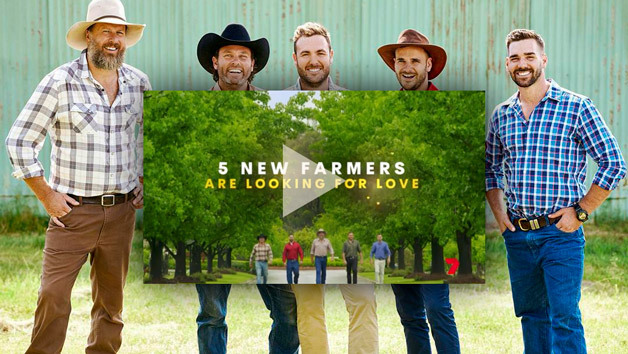 Five new farmers are looking for love and the first look for the newest season of 'Farmer Wants A Wife' has been released!
In this season, we've been promised more than one farmer will find love.
Channel 7 has shown us a new sneak peek at the reality dating show and in the footage we see our five farmers, Sam, Matt, Andrew, Will, and Rob meeting the girls for the first time.
Natalie Gruzlewski will return to host the series. She expressed her excitement about the new season in a statement:
"I'm so excited to guide our newest crop of nervous and loveable Aussie farmers in their search for true love."

"These farmers and ladies have opened their farms and hearts in the hope of finding their happily ever after, and it's a privilege to be a part of their life-changing love stories."
The five farmers will choose eight women each to join them on speed dates and then will narrow down to five women who they'll get to know more.
Get a sneak peek and meet our farmers below!
---
Farmer Will, 39
Sheep and Cattle Farmer, Longwood, VIC
"I am honest and energetic, love a party, but I also very much enjoy my downtime. I much prefer to be outside than indoors, I love almost all animals, I'm just a pretty normal down to earth bloke really!"
Farmer Matt, 26
Beef and Fodder Farmer, Orbost, VIC
"I am an easy-going farmer who loves a bit of banter, am very sociable and a good communicator. Wise beyond my years with a solid work ethic and incredibly driven. Love a good challenge and the sense of achievement that comes with accomplishment yet, can use my failures for future growth."
Farmer Sam, 24
Sheep and Crop Farmer, Canowindra, NSW
"I'm a fun, loving person with a heart of gold and a great sense of humour. I am an adventurous soul and am looking for someone to go on adventures with."
Farmer Andrew, 30
Sheep Farmer, Delegate, NSW
"I'm a pretty laid-back genuine guy who likes a good time. I don't like to take myself too seriously and enjoy being around good friends and family. I wear my heart on my sleeve and consider myself fun loving, loyal and easy going. I would rather spend my money on experiences and making memories than material things."
Farmer Rob, 40
Sheep and Cattle Farmer, Snowy Mountains, NSW
"I am an easy going country bloke who is very happy with my life, I'm highly driven, love my work and love to make the most of life."
---
Farmer Wants a Wife 2021 will premiere on Sunday the 4th of July at 7 pm on Channel 7.
Know a farmer or a lady who'd be interested in the next season? Register here.
Image Credit: (@farmeraustralia / Instagram)