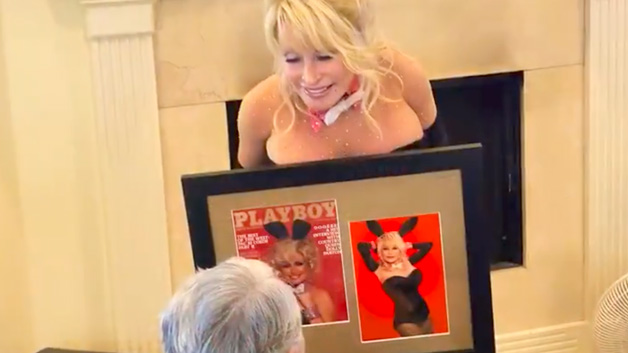 Dolly Parton has recreated her 1978 Playboy Magazine cover for her husband Carl's birthday.
The 75-year-old country singer told her followers on social media in a video that some time back, she promised to pose on Playboy magazine when she turned 75.
Because the magazine doesn't exist in the same format anymore, she thought she'd have her own photoshoot to surprise her husband. She posted, "It's always #HotGirlSummer for my husband, Carl 💝 Happy birthday my love!"
It's always #HotGirlSummer for my husband, Carl 💝 Happy birthday my love! pic.twitter.com/utz7Atpk3F

— Dolly Parton (@DollyParton) July 20, 2021
In the video, she says, "You're probably wondering why I'm dressed like this, well it's for my husband's birthday. Remember some time back I said that I was gonna pose on the Playboy Magazine when I was 75? Well, I'm 75 and they don't have a magazine anymore but my husband and I always loved the original cover of Playboy, so I was trying to think of something to do to make him happy.
"He still think's I'm a hot chick after 57 years. And I'm not gonna try talk him out of that and I hope he agrees, what do you think?"
The video ends with a photo of Dolly presenting the two photos side by side in a frame to her husband and adds, "Do you think Playboy oughta pay me for at least a photoshoot? I do!"
Her husband Carl Dean turned 79 on July 20, 2021 and the pair met when Parton was only eighteen. Only two years later on May 30, 1966, they were married.
"Well, I don't plan to retire. I just turned 74!" With her signature charm and unique voice, it's so easy to see why fans will always love @DollyParton #60Mins pic.twitter.com/RlPme7tumJ

— 60 Minutes Australia (@60Mins) March 8, 2020
In an interview with 60 Minutes Australia earlier in 2020, she said, "I plan to be on the cover of Playboy Magazine again. I thought it'd be such a hoot if they go for it, I don't know if they will. If I could be on the cover again when I'm 75."
Parton was just 32 when she graced the cover of her issue of Playboy Magazine in 1978.
(Image Credit: @DollyParton / Twitter)