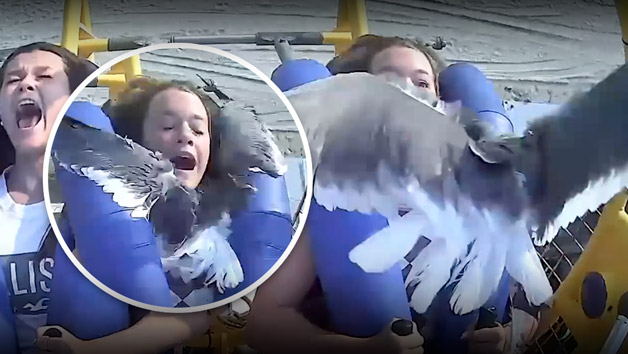 3, 2, 1…. Seagull! A 13-year-old has had the fright of her life as she took a ride on a slingshot and was struck by a seagull at 120km per hour.
The viral footage was captured of the teen and her friend as they prepared to get their reaction on the extreme thrill ride. As if the ride itself wasn't scary enough, as they are launched up, 13-year-old Kiley Holman on the right is struck by a bird out of nowhere.
As the bird is stuck with its wings spread across her neck and pulled up by the force of the ride, Holman in shock pulls the bird off her face, and then it appears to fly away.
The incident occurred at Morey's Piers on Jersey Shore. Holman was there celebrating her friend Georgia Reed's 14th birthday. The 18-second clip was uploaded on July 13 by Robert Reed.
The ride the girls were on is called the SpringShot, a two-person ride that uses steel aircraft cables to spring riders straight up into the air. The ride shoots riders to speeds over 75MPH (120km/h).
Luckily, Holman wasn't injured during the ordeal, and joked during an interview with Inside Edition:
"I'm glad it didn't poop on me."
Image Credit: (Screenshot via. Robert Reed / Youtube)