Children can be heard screaming and crying as they try to hide from the 'Bigfoot' that a mother organised for her 6 year old daughter's birthday party.
Brett McPherson had planned a birthday party for her daughter, Blaynee Mae, at a holiday home amidst forests allegedly inhabited by Bigfoot.
The Oklahoma mother hired a 'Mrs Bigfoot' to attend the party as a surprise, and requested she wear a bow & tutu to look less intimidating.
Unfortunately, nothing could stop the kids from being absolutely terrified of the faux beast.
Brett took to TikTok and Instagram with footage of the parent fail.
The video was captioned, "That one time we hired Bigfoot Schenanigans to surprise our sweet girl for her birthday party and it went epically wrong."
A giant and rather frightening looking sasquatch, named Cinnamon, is seen peeking through the windows from outside, while a hoard of screaming children can be heard in the background.
The Bigfoot eventually enters the room to greet the devastated birthday girl with a bunch of balloons.
The children can be seen screaming, yelling and bursting into tears.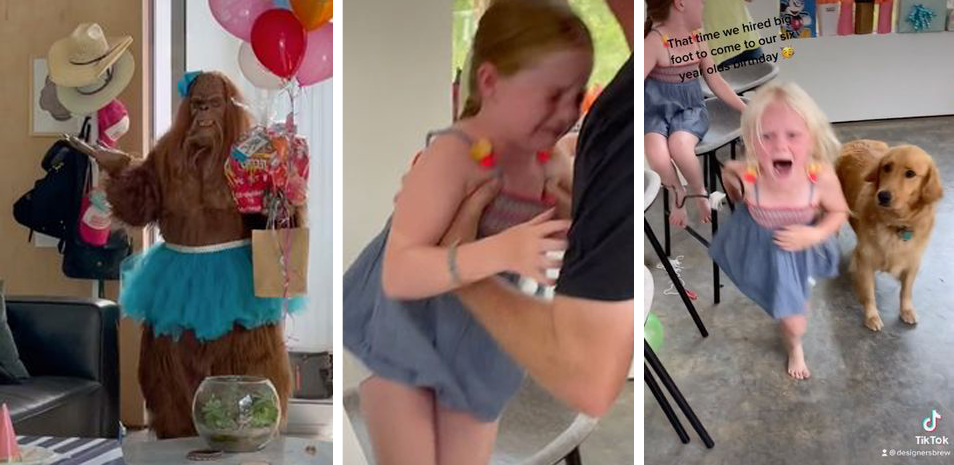 "When Bigfoot appeared outside the window, our kids thought they were dead," said Brett.
"We never ever expected this reaction. I don't know if the parents laughed louder, or the kids screamed louder."
Thankfully, the parents were able to calm Blaynee and the other kids down and Brett says, in the end "it all turned out great!!!".
Note: Maybe Elsa from Frozen will make a better surprise guest for your youngster's next birthday bash.
Image Credit: designerbrew / TikTok