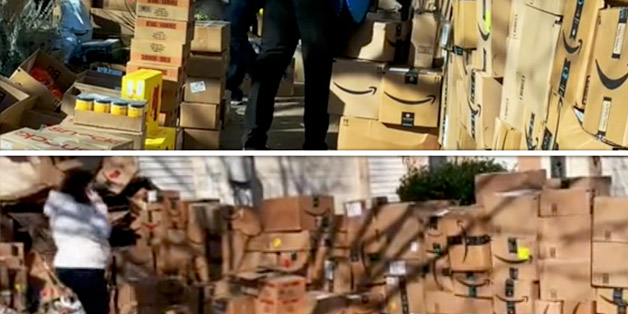 A delivery driver has quit his job after a massive delivery tipped him over the edge, taking almost two hours to unload over 300 packages to the recipients home.
Willy N'Goran, an Amazon delivery driver in the States posted the video of the delivery that made him quit to TikTok. In the video, he writes: "The Day I Quit (sic) Amazon Deliveries."
As he unloads the boxes one by one to the woman's home, he writes on the video, "Note that she is opening the boxes as I deliver due to limited space."
With the boxes piling up in the front yard and taking up the driveway, the driver explains it took 1 hour and 47 minutes to unload the 314 packages. He writes, "It took 1Hour47min to deliver 314 heavy packages to this single home."
The video went viral with over 7 million views, over 500K likes and over 10K comments (at the time of writing).
Being in America, some wrote that they hoped the driver got a good tip. One person said, "A tip of absolutely necessary at this point."
Others mentioned it would actually be an ideal delivery, being just one stop. They said, "Are you kidding this is the most ideal delivery. One stop. A house, not an apartment. Wow"
Of course, people saw the humorous side to the situation, one even saying, "Bezos we know who's making you rich!!"
One user joked the woman would leave a note to tell him to hide the packages from her husband. They wrote:
"Leaves you a note to make sure you hide them from her husband"
Another joked saying she ordered the items on her ex's credit card:
"When you break up with the Ex but their credit card number still on the account!"
Being more realistic, one user commented saying the items are probably for the homeless and said, "Hey those who are judging. It's probably donations for homeless. Many people do that."
The driver then actually confirmed it was for the local military regiment, replying to the comment with:
"Well thought. It was actually for the local military regiment."
He then explained the massive delivery was due to an error in their system which caused delays. The items were intended to be split into separate deliveries, however, N'Goran ended up being the driver who had to deliver the whole delivery in one load. He wrote:
"There was an error in the system that delayed the deliveries. They were to be split between different drivers but it went wrong. I was the last resort."
Although he quit the delivery job, it appears he still works at Amazon, with a follow-up video to a comment asking "WHY DID YOU QUIT?" He explains in the video that he nows works from home as a manager.
Image Credit: (@willy.ngoran / TikTok)