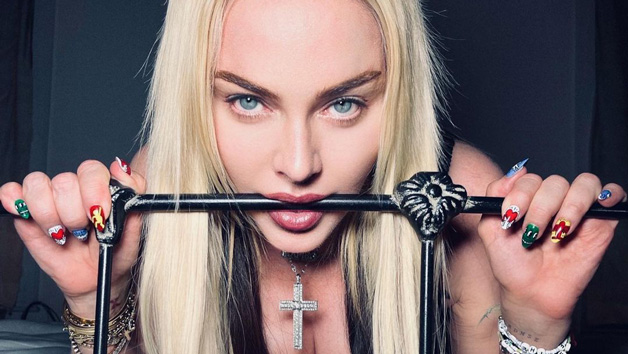 After Instagram removed Madonna's latest photo set for breaking their rules, Madonna has reposted the photo set, responding to the censorship herself.
Originally posting the series of photos on her bed with the caption "Angel watching over me," she left them uncensored and received mixed opinions from fans.
One person thought the photos were inappropriate for Instagram and wrote, "I don't understand how she's just allowed to flash her s**t all over Instagram like this is PornHub…" Another thought she should retire, writing, "Madonna. I'm speaking to you from the last century. STOP ALREADY. Retire and be the queen you are. I'm your age and you look ridiculous and your face is obviously no longer yours, though still beautiful. You have kids! What are you doing? YOU DID IT ALL AND DON'T HAVE TO SHOW YOUR A** TO BE RELEVANT. XOXO
Other fans came to her support, giving her praises commenting, "What an AMAZING body. You look beautiful girl. The jealous, catty b***** are gonna go CRAZY"
The queen has spoken.

We love you madonna 👑 pic.twitter.com/RYcupitMys

— Brooklyn Summer (@Brooklynsummer_) November 25, 2021
The 63-year-old took to Instagram to respond to the removal of the images by reposting the set of photos but with a heart emoji censoring her nipples. She writes in the post:
"I'm reposting photographs Instagram took down without warning or notification….. The reason they gave my management that does not handle my account was that a small portion of my nipple was exposed. It is still astounding to me that we live in a culture that allows every inch of a woman's body to be shown except a nipple. As if that is the only part of a woman's anatomy that could be sexualized. The nipple that nourishes the baby! . Can't a mans nipple be experienced as erotic ??!! And what about a woman's a** which is never censored anywhere. Giving thanks that I have managed to maintain my sanity through four decades of censorship…… sexism……ageism and misogyny. Perfectly timed with the lies we have been raised to believe about the pilgrims peacefully breaking bread with the Native American Indians when they landed on Plymouth Rock! God bless America 🇺🇸 ♥️❌ #artistsareheretodisturbthepeace"
The post was greeted with messages of support with comments such as, "Wholeheartedly agree 👏🏾 Thankful for your outspoken, rebellious, courageous and compassionate art and voice that inspired me as an impoverished neglected gay boy who was encouraged to have no voice. For every detractor you have, you have even more of us who celebrate you and are thankful for you ❤️"
Instagram is strict in their Community Guidelines and says for a variety of reasons, they don't allow nudity. From their Community Guidelines page they explain:
We know that there are times when people might want to share nude images that are artistic or creative in nature, but for a variety of reasons, we don't allow nudity on Instagram. This includes photos, videos and some digitally-created content that show sexual intercourse, genitals and close-ups of fully-nude buttocks. It also includes some photos of female nipples, but photos in the context of breastfeeding, birth giving and after-birth moments, health-related situations (for example, post-mastectomy, breast cancer awareness or gender confirmation surgery) or an act of protest are allowed. Nudity in photos of paintings and sculptures is OK too.
Their nudity policy also details their restriction of female breasts, writing, "Our Nudity Policies have become more nuanced over time. We understand that nudity can be shared for a variety of reasons, including as a form of protest, to raise awareness about a cause or for educational or medical reasons. Where such intent is clear, we make allowances for the content. For example, while we restrict some images of female breasts that include the nipple, we allow other images, including those depicting acts of protest, women actively engaged in breastfeeding and photos of post-mastectomy scarring. For images depicting visible genitalia or the anus in the context of birth and after-birth moments or health-related situations, we include a warning label so that people are aware that the content may be sensitive. We also allow photographs of paintings, sculptures and other art that depicts nude figures."
In the "Do Not Post" section they explain that uncovered female nipples aren't allowed except in different contexts:
"Uncovered female nipples except in the context of breastfeeding, giving birth and after-birth moments, health-related situations (e.g. post-mastectomy, breast cancer awareness or gender confirmation surgery) or an act of protest."
Image Credit: (@madonna / Instagram)