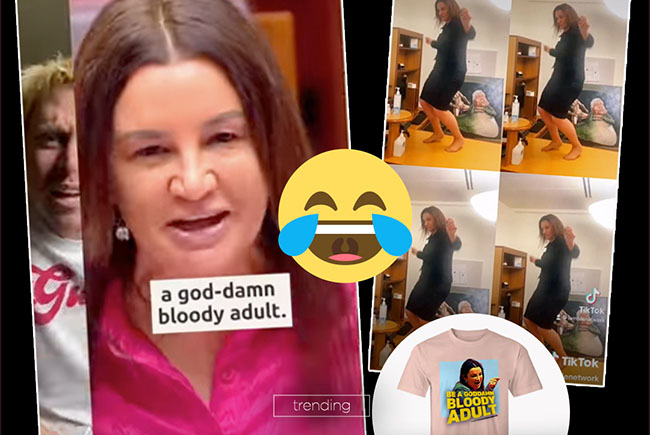 Politics. You might think it's a snoozefest most of the time, but a passionate speech from one politician has now inspired a TikTok dance craze and a tshirt!
And we're loving it.
It all went down last week when One Nation leader Pauline Hanson (of "please explain" fame) spoke out against mandatory vaccine jabs, saying it was discriminatory.
In response, Tasmanian senator Jacqui Lambie blasted her in a fiery speech, saying: "Being held accountable for your own actions isn't called discrimination. It's called being - you wouldn't believe it - a god-damn bloody adult."
That "god-damn bloody adult" line was such a good takedown that Melbourne musician Calum Newton - known on socials as Candy Moore - had to remix it into a dance song.
And now it's going viral. Have a watch and bust a move while you do:
Jacquie loved it, and even made her own remix:
The video has had more than half a million views on TikTok and Jacqui's video response doing equally well.
Now there's even a tshirt available - maybe Jacqui will send one to Pauline Hanson as a Christmas present?
I've had maybe 60 requests for one, so here it is. Get it while it's 🔥

Plus, 10% of profits are going to RMIT Factlab, which is working overtime to counter online misinformation. More strength to their arm, I reckon. https://t.co/BBujX5e5US

— Jacqui Lambie (@JacquiLambie) November 29, 2021
Candy Moore is clearly onto something with his remix. "Your remixes are the only way we should be consuming political media" responded one commenter, while another wrote: "If there's one thing I love about my country's culture it' making club remixes out of our [politicians'] hot takes."
There's been no shortage of lines from politicians - the good, the bad and the ugly - to inspire remixes.
In fact, Candy Moore's already made the next one, remixing Victorian Premier Dan Andrews' comment to "get on the beers" in with the Jaquie Lambie video after it was requested.
Did we say politics can be a snoozefest? Not anymore!
And it looks like Candy Moore is hoping others will take up the cause and remix more hot takes from politicians. He's shared a video on how he did the remix:
Main image: TikTok/CandyMoore.mp3, TikTok/LambieNetwork, Twitter/JacquiLambie