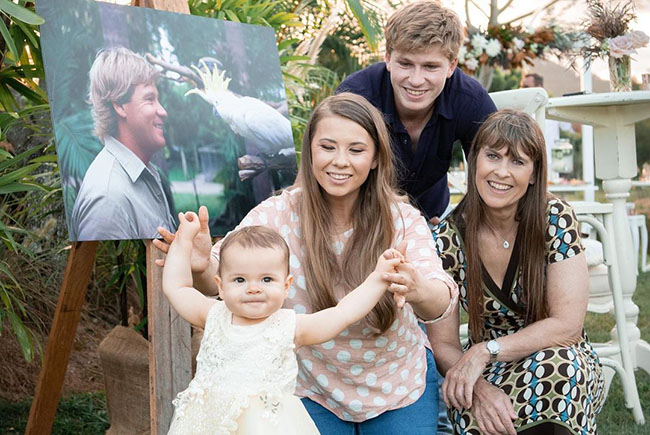 Grace Warrior Irwin Powell turns 1 today and has celebrated in adorable style with her Australia Zoo family.
And of course there's plenty of gorgeous photos and videos!
"Happy Birthday to my graceful warrior. One year of watching your beautiful heart bloom into the most extraordinary person," Bindi wrote on an Instagram post featuring a series of photos of Grace with Bindi, Chandler, Terri, Robert and Chandler's parents Chris and Shannan at a private celebration at Australia Zoo.
Steve was there too, via a large format photo of him with a cockatoo.
"Grace, you have been an old soul from the very beginning," Bindi continued. "It is the greatest blessing to be your mama. I love you eternally, unconditionally and infinitely. ❤️ "
Chandler also posted a cute photo with Grace on his Instagram, saying: "It's been one year since you came into our lives and yet it feels like you've been with us forever. I never knew I had so much love to give. Happy first birthday sweetheart❤️ "
A heartwarming moment with Steve and Grace
Bindi also posted a video of the celebrations, which contains a sweet moment where Bindi is pointing to her Dad's photo and talking to Grace about him.
The nearly five minute video shows Grace walking up a storm, opening presents, playing a song on her new xylophone, checking our her multi-tiered cake (though it looks like Robert takes a big chunk out in a hilarious move) and laughing and smiling with her family.
And of course there's plenty of appearances from the animal stars, including a bird, echidna and rhinos.
"Grace is absolutely amazing and we want to thank you guys for all the birthday wishes," Bindi says in the video.
A year of growth
In the lead-up to Grace's big day, Bindi uploaded a cute video montage of Grace growing over the 12 months, writing that the past year had been "the greatest of our lives".
Not only is it Grace's first birthday, but Bindi and Chandler's second wedding anniversary. The timing feels like a miracle to Bindi, who has previously noted: "Grace Warrior was born at 5:52pm on the 25th of March 2021. We just discovered that Chandler and I said our vows and were officially married exactly 3 minutes earlier on the 25th of March 2020. Three. Minutes. This is why I believe in miracles. ❤️ "
Australia Zoo celebrations and livestream
Grace's birthday is also being celebrated with the public at Australia Zoo with a day of fun events, including the opening of Camp Grace, a new playground named in her honour.
You can watch the LiveStream of the day on the Australia Zoo website.

Main image: Instagram/bindisueirwin